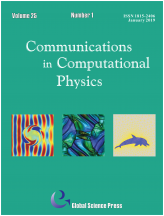 Communications in Computational Physics
Editor-in-Chief
Xian-Tu He
Managing Editors
Tao Tang and Song Jiang
Editorial Board
Electronic: 1991-7120
ISSN Print: 1815-2406
Aims and Scope
Communications in Computational Physics (CiCP) publishes original research and survey papers of high scientific value in computational modeling of physical problems. Results in multi-physics and multi-scale innovative computational methods and modeling in all physical sciences will be featured. CiCP is a refereed, interdisciplinary journal edited by a group of world-wide leading scientists in diverse fields to guarantee its highest standard. The journal is published in a timely fashion in printed and electronic forms.
Impact Factor:3.246
5-Year Impact Factor:2.881
CiteScore:3.20
CiCP's most recent SCI impact factor (2020) is 3.246. It is ranked #7 among the 55 mathematical physics journals.

Our Associate Editor Professors Haiqing Lin and Xiyun Lu were elected as Academicians of the Chinese Academy of Sciences in 2019. Congratulations!


Since 2006, CiCP has been indexed by Science Citation Index-Expanded (SCIE), Scopus, Mathematical Reviews.

Featured Articles more

Extended Physics-Informed Neural Networks (XPINNs): A Generalized Space-Time Domain Decomposition Based Deep Learning Framework for Nonlinear Partial Differential Equations

by Ameya D. Jagtap & George Em Karniadakis, Commun. Comput. Phys., 28 (2020), pp. 2002-2041.

Machine Learning and Computational Mathematics

by Weinan E, Commun. Comput. Phys., 28 (2020), pp. 1639-1670.

Parametric POD-Galerkin Model Order Reduction for Unsteady-State Heat Transfer Problems

by Sokratia Georgaka, Giovanni Stabile, Gianluigi Rozza & Michael J. Bluck, Commun. Comput. Phys., 27 (2020), pp. 1-32.

Open Access Articles more

A Kernel-Independent Treecode Based on Barycentric Lagrange Interpolation

Lei Wang, Robert Krasny & Svetlana Tlupova, Commun. Comput. Phys., 28 (2020), pp. 1415-1436.

Entropies and Symmetrization of Hyperbolic Stochastic Galerkin Formulations

Stephan Gerster & Michael Herty, Commun. Comput. Phys., 27 (2020), pp. 639-671.

Lévy Backward SDE Filter for Jump Diffusion Processes and Its Applications in Material Sciences

Feng Bao, Richard Archibald & Peter Maksymovych, Commun. Comput. Phys., 27 (2020), pp. 589-618.