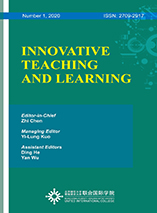 Innovative Teaching and Learning
Electronic: 2709-2291
ISSN Print: 2709-2917
Aims and Scope
The Innovative Teaching and Learning (ITL) is a scholarly journal founded by the BNU-HKBU United International College. This journal aims to promote college teaching and learning through empirical and review studies, as well as teaching practices.
Impact Factor:
5-Year Impact Factor:
CiteScore:
A quality education is powered by excellence in teaching and learning. As the first liberal arts college in the mainland China, Beijing Normal University-Hong Kong Baptist University United International College (UIC) has always set its top priority on fostering brilliant students by tapping into many innovative teaching concepts and practices. We are proud to have produced some shareworthy results in the journal Innovative Teaching and Learning which is founded in 2019.