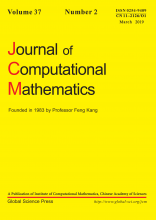 Journal of Computational Mathematics
Editor-in-Chief
Zhiming Chen
Managing Editors
Gang Bao and Jinchao Xu
Editorial Board
Electronic: 1991-7139
ISSN Print: 0254-9409
Aims and Scope
Journal of Computational Mathematics (JCM) is an international scientific computing journal founded by Professor Feng Kang in 1983, which is the first Chinese computational mathematics journal published in English. JCM covers all branches of modern computational mathematics such as numerical linear algebra, numerical optimization, computational geometry, numerical PDEs, and inverse problems. JCM has been sponsored by the Institute of Computational Mathematics of the Chinese Academy of Sciences.
Impact Factor:1.021
5-Year Impact Factor:1.205
CiteScore:1.30
JCM's most recent SCI impact factor (2020) is 1.021. JCM is ranked #151 among the 330 mathematical journals.

Featured Articles more

A Robust Discretization of the Reissner-Mindlin Plate with Arbitrary Polynomial Degree

by Dietmar Gallistl & Mira Schedensack, J. Comp. Math., 38 (2020), pp. 1-13.

Stabilized Barzilai-Borwein Method

by Oleg Burdakov, Yuhong Dai & Na Huang, J. Comp. Math., 37 (2019), pp. 916-936.

Quantization and Training of Low Bit-Width Convolutional Neural Networks for Object Detection

by Penghang Yin, Shuai Zhang, Yingyong Qi & Jack Xin, J. Comp. Math., 37 (2019), pp. 349-359.

Open Access Articles more

Robust Inexact Alternating Optimization for Matrix Completion with Outliers

Ji Li, Jian-Feng Cai & Hongkai Zhao, J. Comp. Math., 38 (2020), pp. 337-354.

A Diagonally-Implicit Time Integration Scheme for Space-Time Moving Finite Elements

Randolph E. Bank & Maximilian S. Metti, J. Comp. Math., 37 (2019), pp. 360-383.

On the Validity of the Local Fourier Analysis

Carmen Rodrigo, Francisco J. Gaspar & Ludmil T. Zikatanov, J. Comp. Math., 37 (2019), pp. 340-348.